Amigo Hostel Sucre, Bolivia.
Amigo Hostel is a beautiful and romantic 19th century old art nouveau building.

We are located just in the middle of Sucre, capital city of Bolivia, people where charcas lived, the liberty of America did begin.

The hostal has private rooms, private bathroom with hot shower, washbasin and toilet, Satelital TV , telephone, internet DSL at reception and wi-fi in the first courtyard.

We provide money exchange, safety box, telephone for long distance calls and free tourist info. Our hostal is open 24 hours and we have English speaking staff.

So do not think about it too much just come and visit us in Sucre!.
Please, visit other sections in this Amigo Hostel Sucre website with next topics:
About Us: Lodgings Sucre, Sucre Hostel, Accommodation Sucre
Services: Sucre Lodging, Hostel Sucre, Accommodation Sucre
Location: Hostel Sucre, Hotels Sucre, Lodgings Sucre
Pictures: Hostel Sucre, Hostels Sucre, Lodgings Sucre
Guestbook: Sucre Accommodation, Lodging Sucre, Hostel Sucre
Rates and Bookings: Hostel Sucre, Hostels Sucre, Lodgings Sucre
Travel Guide: Lodgings Sucre, Sucre Hotel, Accommodation Sucre
Chuquisaca: Lodgings Sucre, Sucre Hostel, Accommodation Sucre
Links: Sucre Lodging, Hotel Sucre, Accommodation Sucre

Latest News

International La Paz Fair 2013
2013-10-06
International La Paz Fair FIPAZ 2013 from nov 22nd to dec 8th....
More Info

Viva Bolivia!!
2013-08-04
Bolivia, officially known as Plurinational State of Bolivia (Quechua: Bulivya Mamallaqta, Spanish: Estado Plurinacional de Bolivia, Aymara: "Wuliwya Suyu"), located in center of SA with almost 11 millions inhabitants with August 6th independence day....
More Info

Santiago of Toro Toro Festival
2013-07-25
Toro Toro is a Bolivian Town located at Department of Potosi. Thes access is via Department of Cochabamba by road of 138 Km in 4-5 hours....
More Info

La Paz Anniversary
2013-07-01
Nuestra Señora de La Paz (Our Lady of Peace; Aymara: Chuquiago Marka or Chuqiyapu) is the administrative capital of Bolivia. This july 16th celebrate one anniversary....
More Info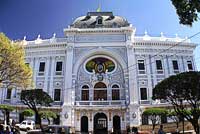 May 25th, Chuquisaca anniversary.
2013-05-22
Chuquisaca is a department of Bolivia located in the center south. It borders on the departments of Cochabamba, Tarija, Potosí, and Santa Cruz. The departmental capital is Sucre, which is also the constitutional capital of Bolivia....
More Info
calle Colon # 125 casi calle Bustillos.
Tel. (+591) (4) 6461706
amigo@hostelsucre.com
Sucre - Bolivia